NEW & EXCITING
**WALK IN SICK APPOINTMENTS in both locations M-F from 8:30am to 10am and 1pm-2:30pm. Saturday walk in sick appointments in Silver Spring 8:30am-10:30am. Appropriate walk in sick appointments include: ear pain, fever, sore throat, rash, or any symptom that is not chronic in nature and has only been present recently. Please feel free to call and speak with a nurse and schedule a sick appointment.
**ALL DAY SATURDAY WELL VISITS in our Silver Spring office from 8:30am to 4pm with Dr. Rupar--please make sure you come around the side of the building to our suite entrance directly into our suite. The main building doors are locked on Saturdays
**BREASTFEEDING, CPR & FIRST AID CLASSES evenings and weekends –see the Services tab for more details
**LACTATION CONSULTANTS on staff in both locations. We bill your insurance first for these visits.
**HEALTH LIAISON on staff to help coordinate your child's care in the community.
**EVENING AND WEEKEND seminars and classes on topics including behavior, nutrition, sleep, potty training and more.
**SPECIALISTS using our location to give better availability to our patients:
**PSYCHOLOGY AND ART THERAPY SERVICES PROVIDED BY: ELAINE S. GOLDBERG, PhD, ATR-BC Clinical Psychologist and Board Certified Art Therapist Silver Spring Location every Friday 8am-12noon
**PSYCHIATRY SERVICES PROVIDED BY: JOSH SUSSAL PSYCHIATRIC CLINIC WWW.SUSSALPSI.COM Rockville Location –check with the staff for available times
**NUTRITIONAL COUNSELING AND SERVICES PROVIDED BY: KIINDRED NUTRITION WWW.KINDREDNUTRITION.COM Rockville Location every other Friday 9:30am-12:30pm and every Tuesday from 2:30-6:30pm
PLEASE SEE A STAFF MEMBER AT CHILDREN FIRST FOR SCHEDULING AND MORE INFORMATION!
Welcome to the Family at Children First Pediatrics!
…where we have a Lactation Consultant and Behavioral & Developmental Pediatrician to better serve your needs! We have two Maryland locations with early morning, early evening and weekend well visits and walk-in sick appointments to accommodate even the busiest of schedules. We know you will find our offices friendly and helpful to bring you the highest quality patient care. We offer ear piercings, evening group classes for anyone in the community, prenatal sessions and more!!


For the most up to date office information, closings, links to helpful articles, evening class information and other relevant office information.
IMPORTANT:
We are now scheduling appointments for all flu vaccines. Our supply of flu shot and MIST are available for all ages including parents, babysitters, grandparents, nannies, etc. We offer morning, afternoon, evening and weekend nurse appointments for your convenience. Please call the nursing staff to schedule!!
**Our office hours are changing TEMPORARILY while Amy Bassford is on Maternity leave! Silver Spring will close at 4:30pm on Tuesdays and Rockville will close at 4:30pm on Thursdays from August to October! Thanks for your understanding while we welcome another member to the CFP family!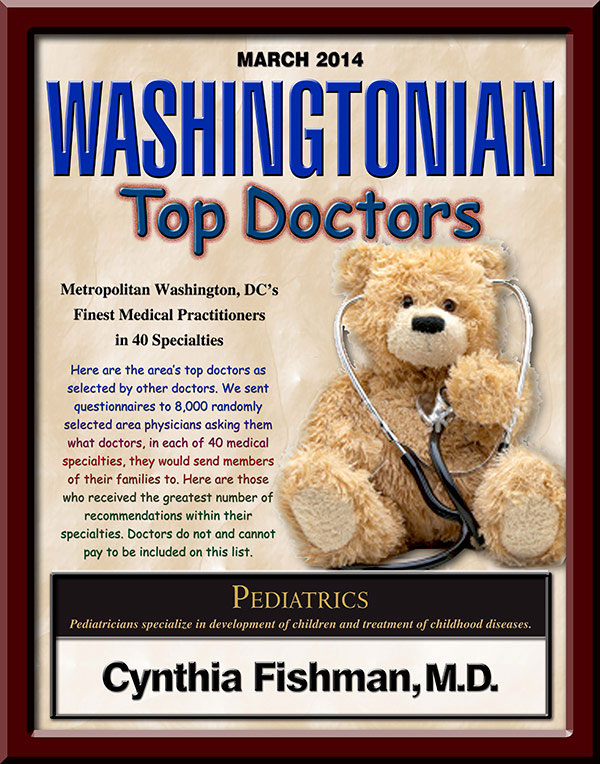 Congrats to Dr. Fishman and Dr. Weich for being named a Washingtonian Top Doctor for 2014!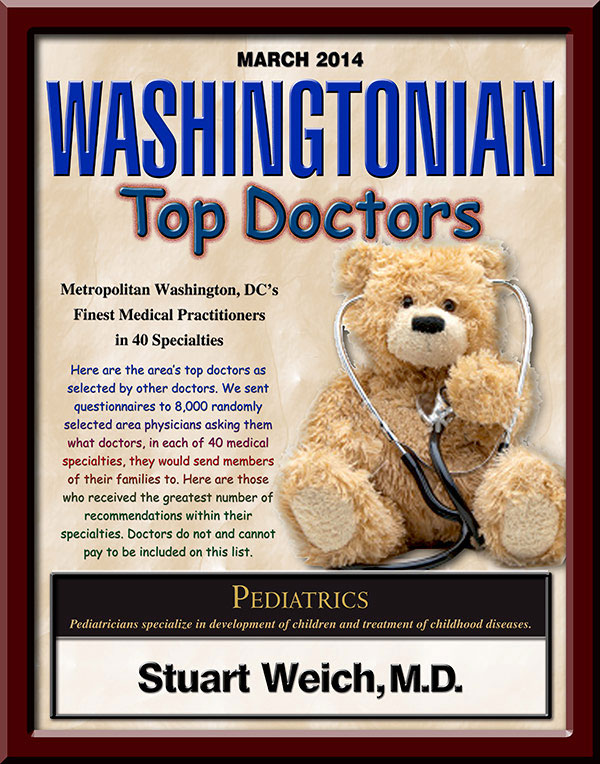 Congrats to Dr. Fishman and Dr. Weich for being named a Washingtonian Top Doctor for 2014!
We strive to give the highest quality care to all of our patients every day. Please visit the link for Angie's List below or go to yelp and yahoo to review our office as we hope that you are satisfied with our care and customer service! The highest compliment comes from patient referrals and reviews of your satisfaction with our office.