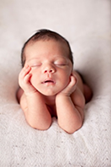 Welcoming a baby can be a such a exciting but stressful time! We are here to assist you with choosing a pediatrician and gearing up for the arrival!
We offer free group informational sessions in the evening and during the day to meet one of our providers and answer any questions you may have. We want to make this as easy for you as possible so we do not require you to attend these sessions to choose our practice, nor do we require any pre-registration with our office. We find out that you have chosen our practice by the call we get from you to make the first visit in the office if we don't come to the hospital. The only hospital we see newborns at currently is Holy Cross Hospital-Silver Spring. If your baby is born at another area hospital, no problem!! We let the in house pediatrician see the baby while in the hospital and then we take over after discharge. However, if you have any questions during the hospital stay please feel free to call us. We are here for you from the minute you need us!
Here are some things to keep in mind:
Interested in Breastfeeding? No problem! We have lots of resources for you including our Lactation Consultant on staff, Resources and videos on our Education tab.
Our Lactation Consultants are here to not only help you when the baby arrives, but they can answer questions you may have PRIOR to the baby coming. Feel free to call us to speak to a consultant. They can do private prenatal consultations as well through the Breastfeeding Center of Maryland.
Make sure you let the hospital know who you have selected as your pediatrician (if delivering at Holy Cross-Silver Spring) so they know to call us when the baby arrives! We will come visit you within 24hrs of birth!
If you deliver at a hospital where we do not have privileges, then a staff pediatrician will examine the baby in the hospital and we will want you to schedule an appointment in our office for your first visit within 2 days of discharge.
Most of all…DON'T worry if you aren't ready or have everything you need! You are not alone. Most parents are not truly ready until the baby arrives and then you let the baby dictate. So, sit back and enjoy this time in your life and take in all the moments.
Can't attend a prenatal session? No problem! Go to our Facebook page and view our Facebook Live Prenatal Video here!
Email us for a copy of our prenatal packet if you can't attend an in person session! doctors@childrenfirstpediatrics.com
Silver Spring Office Tour